What is Box Against Avenger?
Calling all comic book fans and lovers of the superhero blockbuster movies, the game you have all been waiting for is finally here – Box Against Avenger. Those zany people who have given us many different Cards Against Humanity themed games (like Cards Against Muggles, Cards Against Disney, Cards Against Star Wars) have now turned their warped worldview to the land of Marvel and men in really tight spandex.
It has been 58 years, since 1963, when the Avengers first appeared in print and fought against their arch enemies. But they have certainly met their match when they go head-to-head against the deviant and debauched humor of this Avengers Cards Against Humanity game.
All your favourite Avenger heroes (and anti-heroes) are present in this Marvel Cards Against Humanity Game. From Thanos and Loki to Iron Man, Thor and Captain America, everyone who appears in the classic comics and spectacular movies will be seen in a very different light when you play this hilarious adult board game. Just hope the Hulk doesn't get angry about it, when the Avengers play Cards Against Humanity. Now, the superhero film and the super hilarious cards, are both combined into one box called Box Against Avenger, or you can call it Avengers Against Humanity.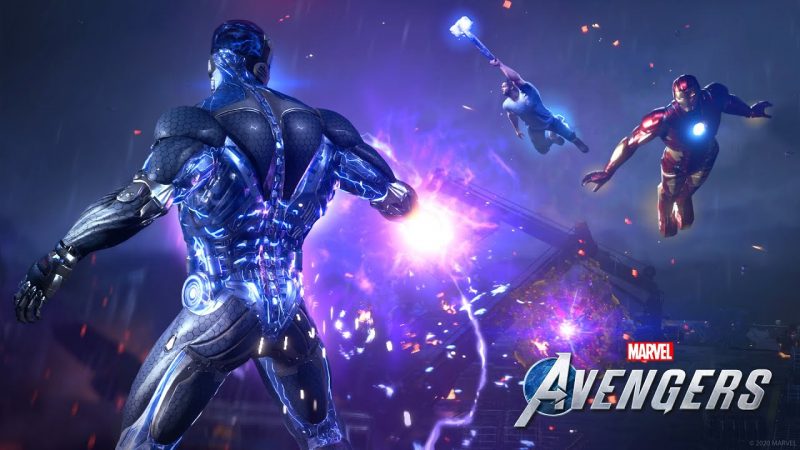 But, if you have been reading these comics and watching these movies then you must have many unanswered questions? If Captain America's body is so hard and strong, does that mean everything? If Captain Marvel is the strongest superhero in the galaxy then how strong is her vibrator? Thor's Hammer is supposed to be his heavy metal weapon but his girlfriend, Jane Foster, said it was something else.
These and many more earth-shattering questions can be raised in Avengers Cards Against Humanity. Though how the answers turn out will depend on how imaginative and how much your brain lives in the toilet. With debased humor like this, it is no surprise this is a game for adults only. Just for those 17 years and above (and who have a really warped sense of humor).
How to Play Avengers Against Humanity?
For the one or two of you who don't know how to play this adult card game, it's very easy. Each player takes it in turn to read out one of the question cards while the other players choose from one of their own answer cards. The combination that wins is usually the one that is the most rude, crude or lewd and makes you fall off your chair howling with laughter! With just four people you can start a game already and the limit is endless. More details about playing rules, check this page, they have similar rules.
Avengers Against Humanity Card Examples
This digital cards against avengers version has 239 cards in total with 50 black cards and 189 white cards. There is no waiting for shipping here, as soon as you order it you will receive it – faster than the snap of Thanos' fingers.
To see how hilarious this adult party game is, check out these samples:
Black Card Examples:
Destroying _______ is just one of Hawkeye's many talents.
Who wants to shave my ass?
What do Scarlet Witch and Vison enjoy in bed?
Captain Amercian's only weakness is ____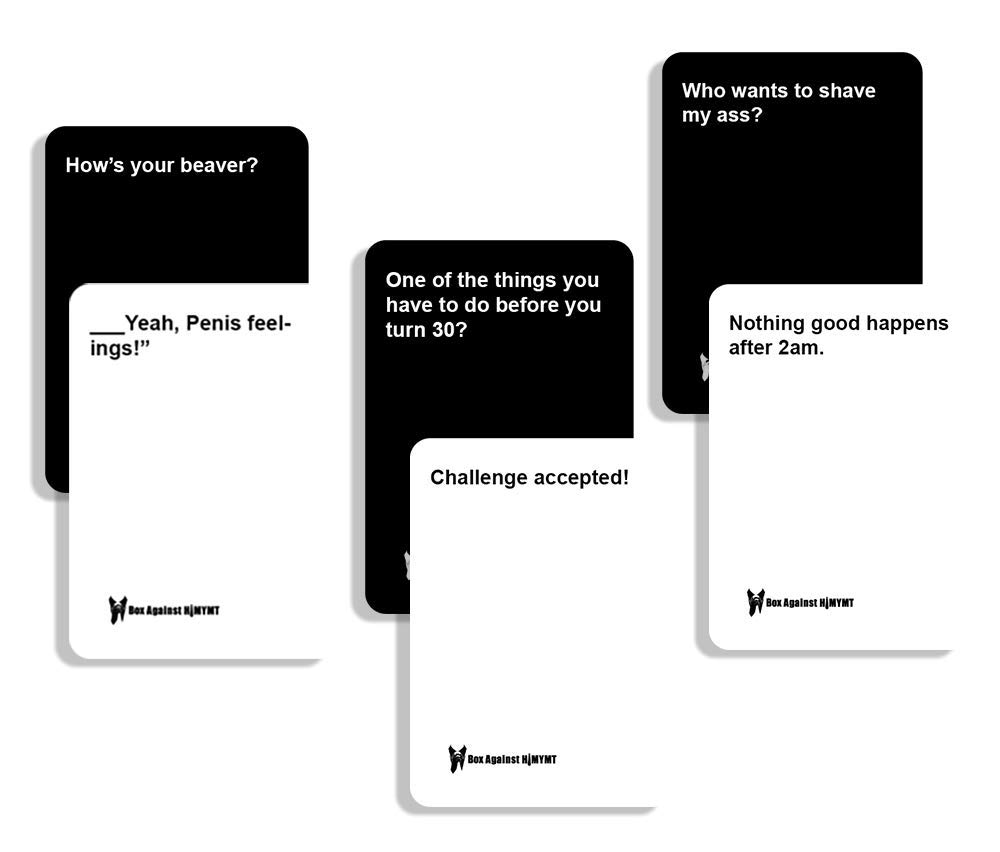 White Card Examples:
Nick Fury's biggest blackest dick.
Challenge accepted!
Nothing good happens after 2am.
Tony Stark starting a weed business called Pepper's Pots.
Red Skull's micropenis.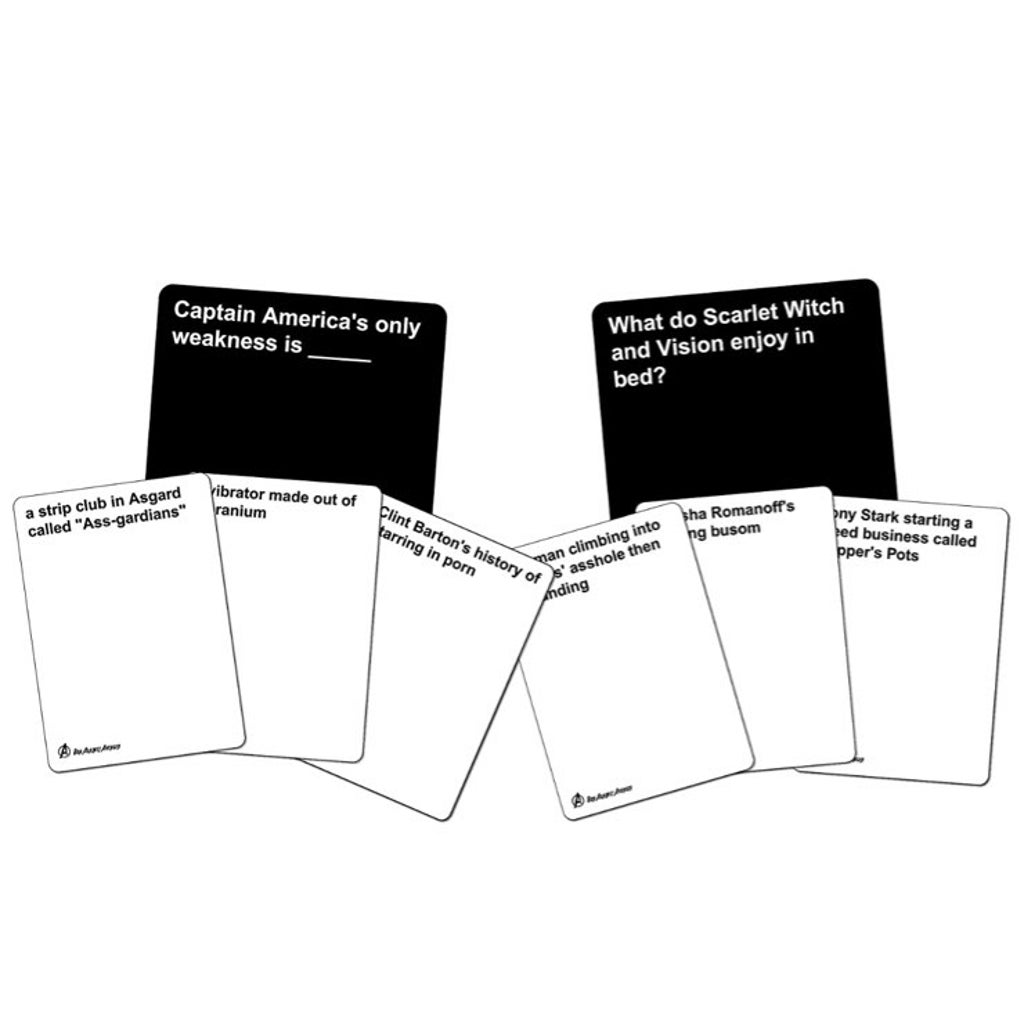 As you can see, this game of Avengers Against Humanity is not for the easily offended or embarrassed. A thick skin and industrial strength gutter humor is required to be worn at all times like a superhero's spandex uniform.
This is the perfect addition to your superhero party nights. With beer and pizza, a wide selection of Marvel movies to watch, your friends can complete the night by cracking open this great game and enjoying hours of hysterical laughs!
Oh, but if Thanos wants to join in, we suggest you let him.