Time to Turn to the Fun Side! Well, here it is. The game every Star Wars addict has been waiting for. There is another game sensation for your enjoyment – Cards Against Star Wars. It is time to turn Jedi Knights into party nights, as you and your friends and family can laugh at the most appalling humor in the galaxy! The nights will fly by as you spend hour upon hour immersed in this intergalactic world of epic characters and adventures slung together to some extremely dubious situations and poor taste humor.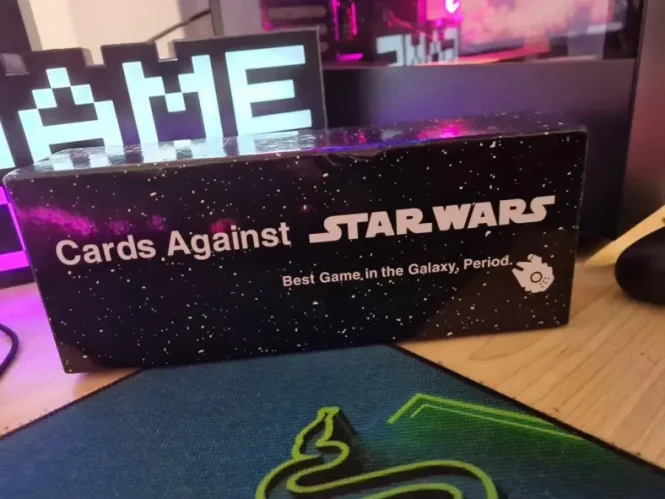 What is Cards Against Star Wars?
There are many extend editions of Cards Against Humanity in our shop. Now allow me introduce you a new Star Wars theme edition – Cards Against Star Wars. You and your friends will enjoy playing it and have a great time. Princess Leia, R2D2, Obi-Wan Kenobi, or the other of the crew of the Star Wars movie are waiting for you in the game! Come on!
This Star Wars Cards Against Humanity party game sees the head-on collision of two of your most treasured items in your life. Your long held love of George Lucas' sci-fi epic, Star Wars, with the most wicked card game out there. It is hard to imagine the toilet level humor of this, much loved, card game being mixed with all of your favourite Star Wars characters and adventures. Can you ever imagine Princess Leia and the Ewoks in the same way again?! In Star Wars Against Humanity anything goes!
What Cards Against Star Wars Allows You To Do?
I've Got a Bad Feeling About This… Card Game Now that you have grown up, have you not wondered about what was really happening 'in a Galaxy far, far away'? How much was left out of the movies, you must have thought? What do they get up to on the Death Star on their nights off? So many male Stormtroopers in one confined space, who knows what could happen? How do they keep warm in the Rebel base on the ice planet of Hoth? Does it have a sauna? On Endor, those Ewok parties must get wild when they are on the booze? When the nights get racy and all the Ewoks look the same, do they really care?
Well, these questions can now be addressed once you start playing this Star Wars themed card game. This unofficial Cards Against Star Wars edition is based upon the ever so popular, Cards Against Humanity. This raucous party game has been going since 2011 and has taken the Millennial world by storm.
For the last ten years, this game has been creating highly inappropriate jokes and laughter the world over and it is now time to take it into the cosmos with this risque Star Wars Cards Against Humanity. Now you have the chance to sate your curiosity with this immensely enjoyable Cards Against Star Wars game.
With the common bond of gutter level humor, you can bring together several generations of Star Wars fans. From the escapades of Han, Leia & Luke, in the 1970's & 80's, to the adventures of Anakin, Obi-Wan & Padme in the 2000's to the final confrontation between Kylo Ren, Ray & Finn in the 2010's. A combination of a love of great science fiction epics mixed with unadulterated smutty humor will bring everyone together.
This original Star Wars card game gives you a chance to ponder some of the great mysteries of the galaxy. Like why was Jabba the Hutt so keen to make Princess Leia wear the golden bikini? How did Jar Jar Binks make himself so popular with hs extra long tongue? What other attachments did Rey find so useful inside BB8? And what other double ended equipment did Darth Maul keep on his utility belt?
How to Play Cards Against Star Wars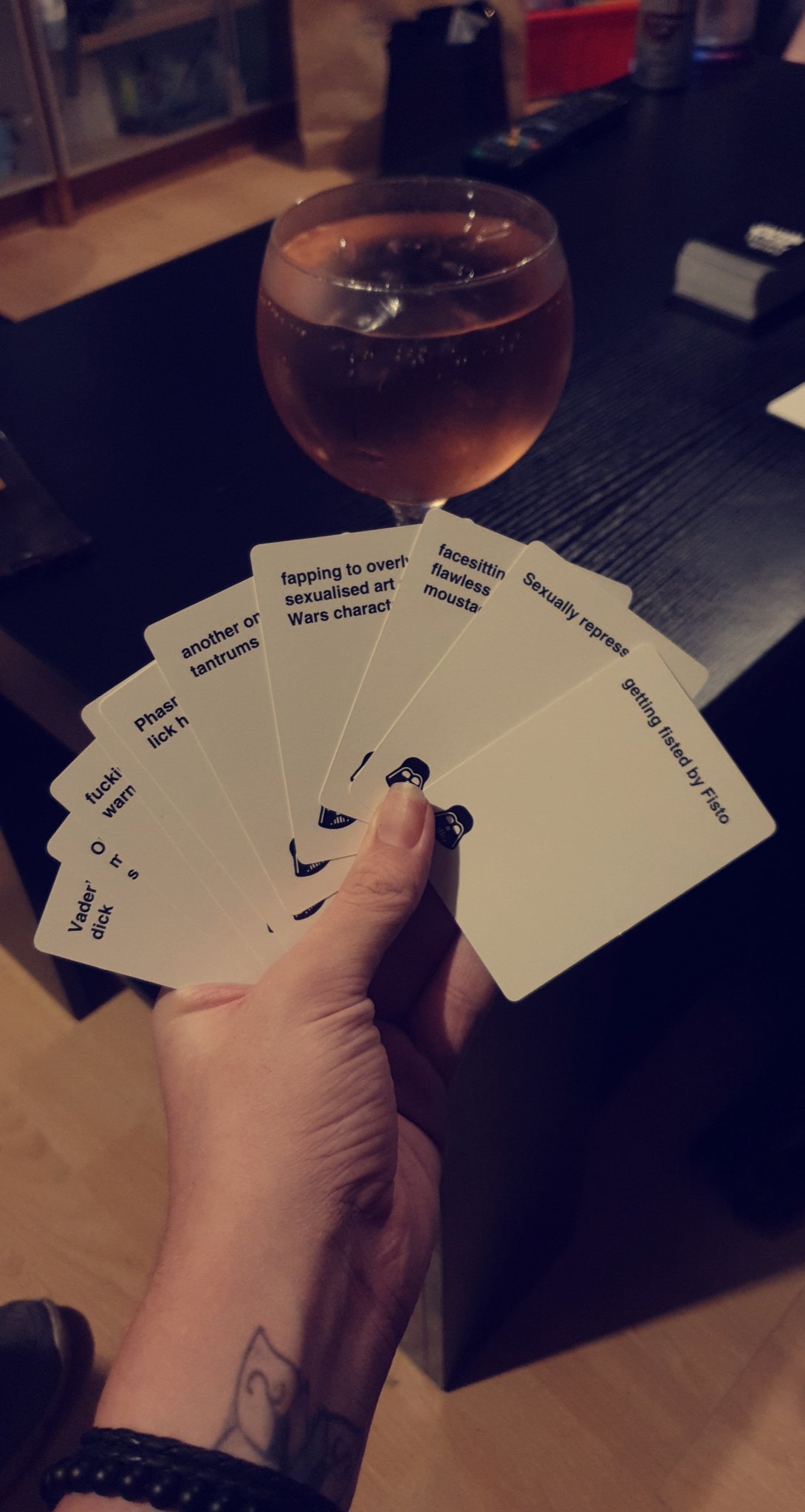 Do. Or Do Not. There is No Try…If You Want to Win this Game I am sure most of you reading this have played this game before or, at least, heard of it? But for those of you who are still virgins here (with Cards Against Star Wars edition, that is) let us go through the rules of the game.
Well, actually, there are not very many really. For a start, it only needs you and three others to kick things off. You can get the game rolling (and the laughs) with just four of you. But this adult party game is best played with more like minded people (warped and deviant) and it runs really well with six to eight people playing it. Though you can push it further by having as many as 20 players joining in but this might strain the levels of beer and pizza that are available during the evening!
But, the more people who are playing, the longer this game will take. A quick game will take just 30 minutes though with more players joining in the fun, it will take up to 90 minutes. It could take longer as uncontrollable howls of hilarity and tears of laughter will hold up the game. Difficult to read out the next card when you have beer shooting out of your nose!
The Cards Against Star Wars cards, in the box, consist of 750 cards in total. This breaks down to 250 black Question / Statement cards and 500 white Answer cards. Each player will take it in turn to read out one of the Black cards while the rest of the players will choose one of the White cards in their hand. The player who makes the best combination will win the round. And winning the round, usually, means picking the rudest, crudest, and lewdest answer you can come up with. Relating the answer directly to anything specific to Star Wars is not always necessary. Relating it to totally inappropriate toilet humor of a sexual nature will hit the spot! This is a game where it pays to play dirty!!
As you can imagine, the level of humor is completely "R" rated and will make a bounty hunter blush. So this Star Wars Cards Against Humanity game is definitely not for the young at heart or the easily offended. Make sure you leave this box set on a high shelf, at home, because the kids might find the cute Star Wars box, with the Millennium Falcon on the front, and think it is a game for them.
You do not want to be blamed for upsetting the children, as they run out of the room crying, or be continuously pestered by them asking, "what does that word mean?"
We have helped you (as we are very nice people here) to try and avoid this by printing an age restriction on the box. It clearly states that Cards Against Star Wars should be for players 17 and above. If you want to avoid the awkward questions, we strongly suggest you adhere to the age limit.
Cards Against Star Wars Examples

Black Card Examples:
They found ______ porn on Darth Maul's computer.
Sexual repression within a religious order leads to_____
Lando's cyborg was distracted by a video of ____ porn on repeat.
The only thing better than kissing your sister is _____
I masturbate to _____ in the bathroom cubical.
White Card Examples:
Getting a lesson in sexual humiliation by Bossk.
Killing your dad but still being a pathetic kid.
Ruling the galaxy as father and son
Chewie wearing a cone o shame after surgery
The disappointment  when Han shoots first during sex as well.
Now you understand why there is an age restriction painted on the box. This is not a game to play with your Gran or your Auntie. Although the other Auntie, who would buy you beer when you were still underage, would definitely like it!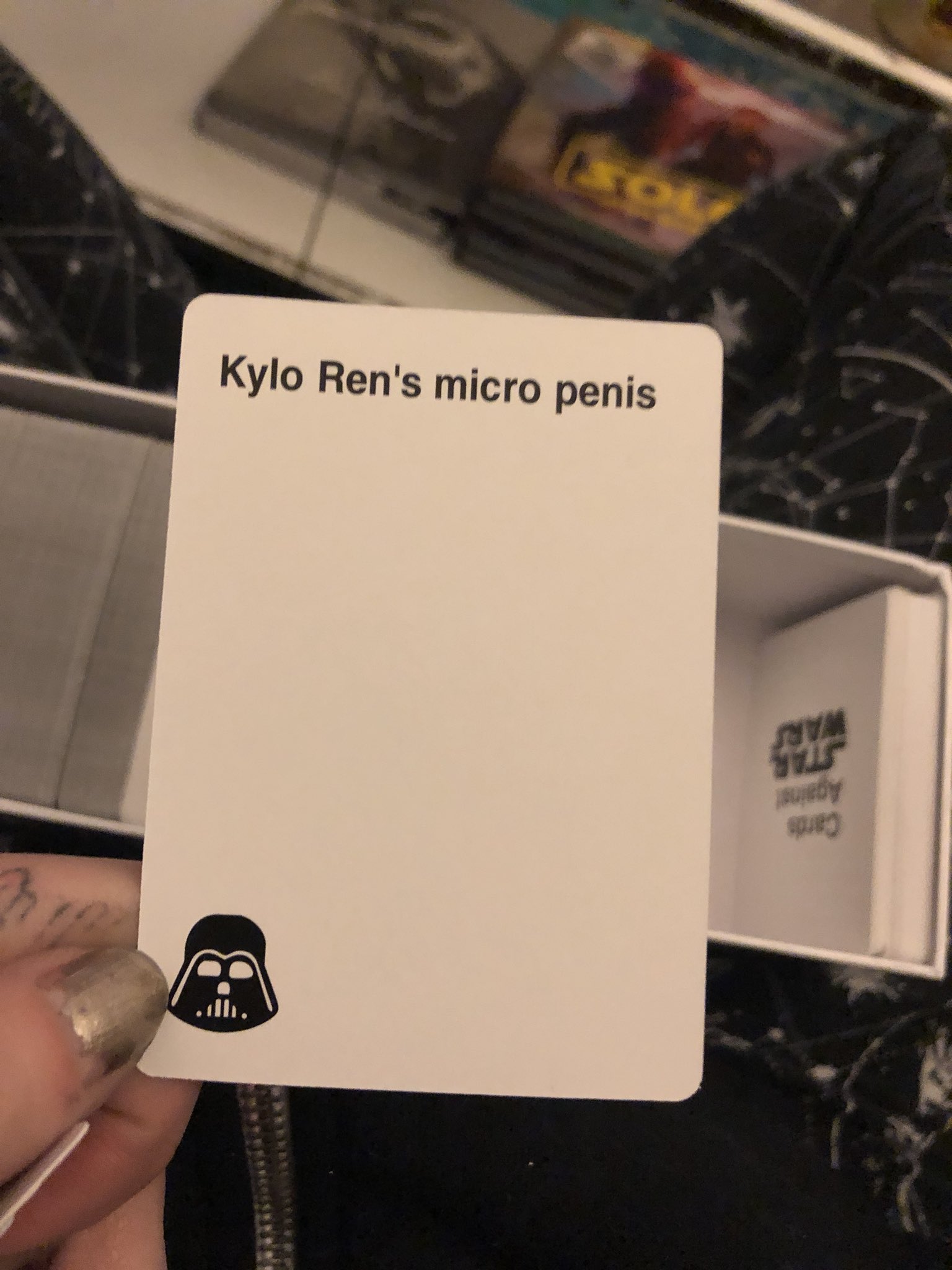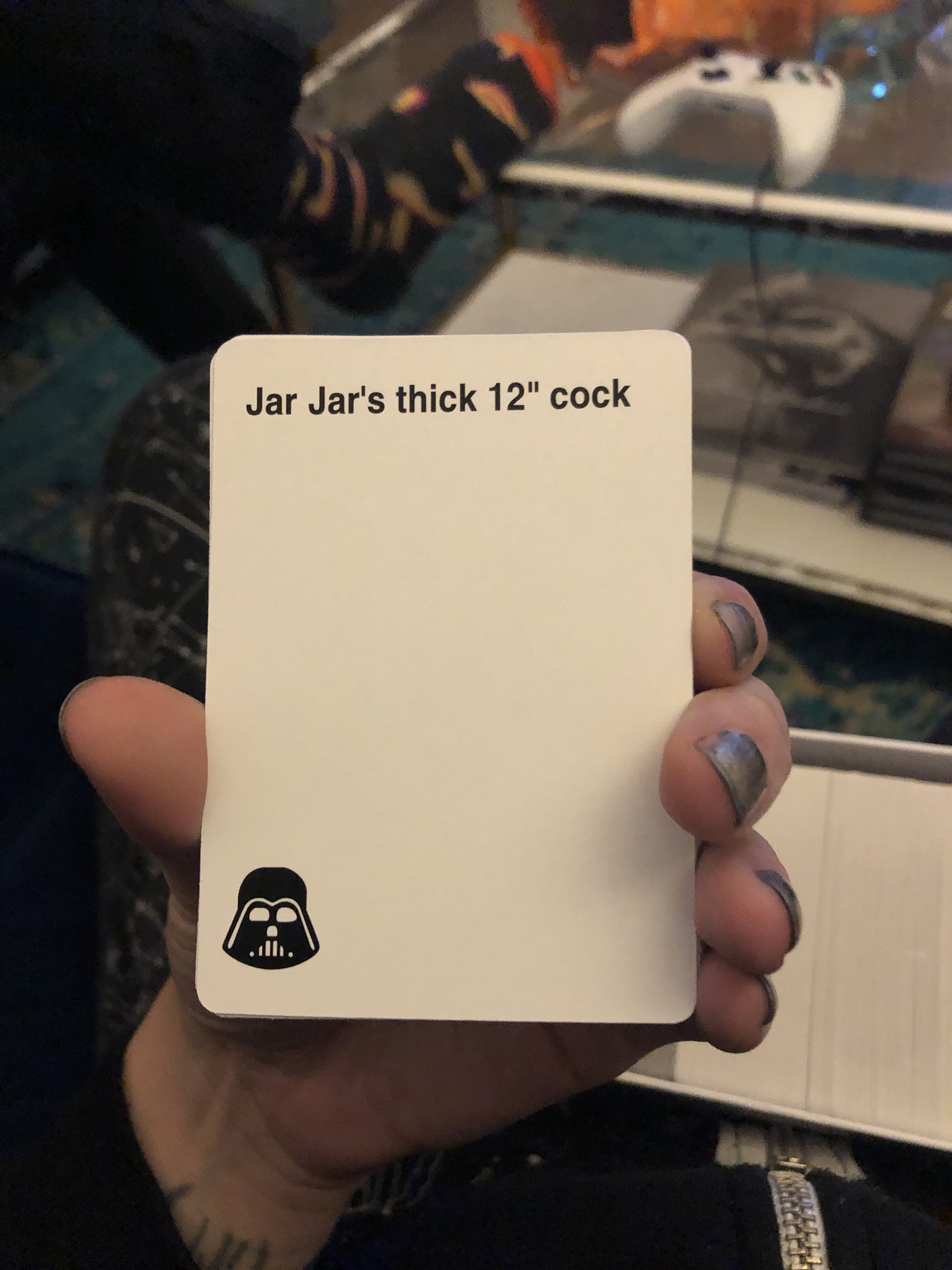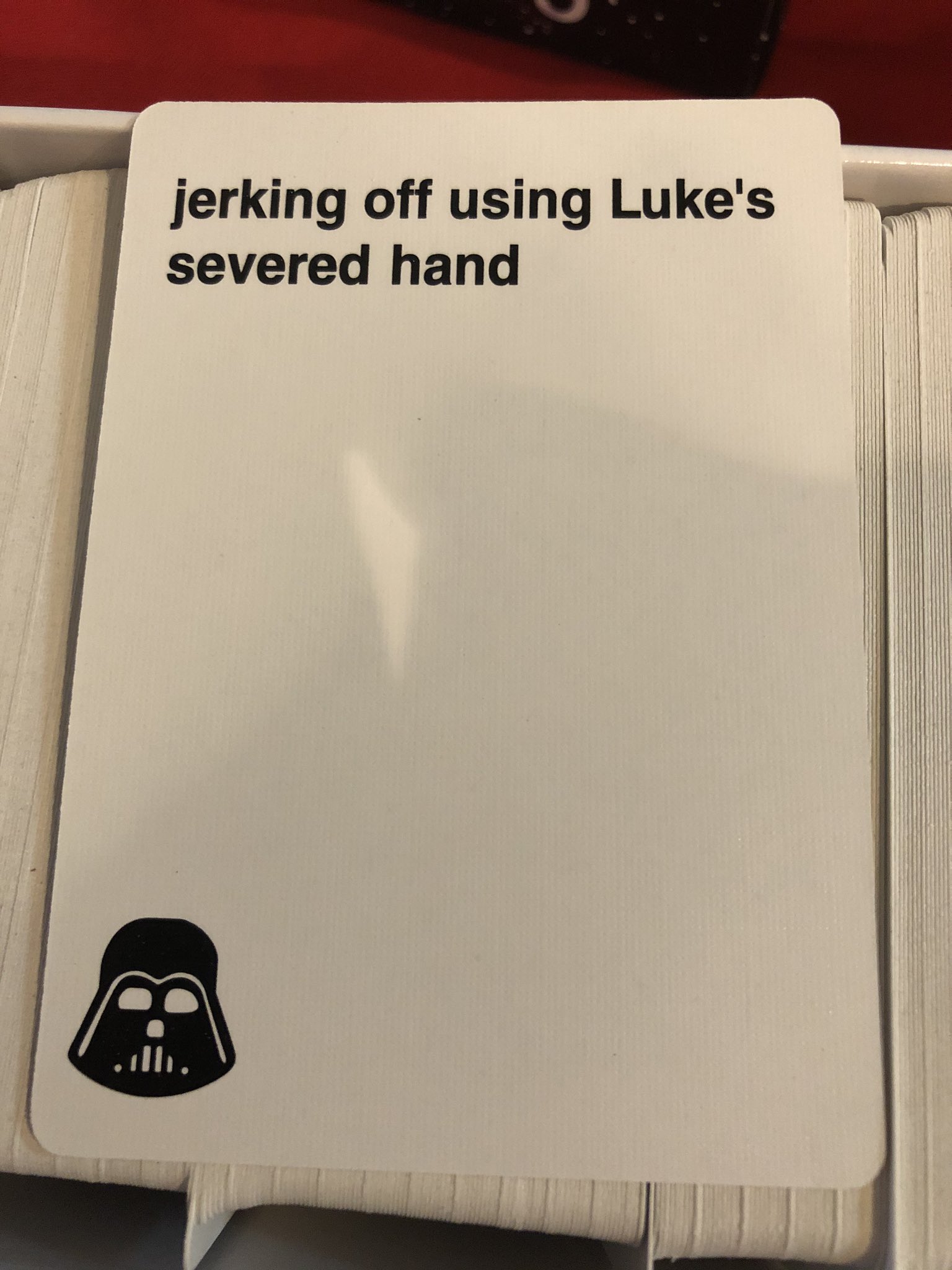 Where to Buy Cards Against Star Wars Online?
Use The Force, Luke….And Buy The Game! But where can I buy Cards Against Star Wars? I hear you ask. Well, the physical box set comes from us and is currently retailing at a 60% discounted price. You can purchase Star Wars Cards Against Humanity online via the our website and have it delivered directly to your doorstep. If you are lucky enough, you can also find the Cards Against Star Wars discount code at our site when some festival arrived.
We have made other editions of the ever popular Cards Against Humanity. There are versions based on Harry Potter, Walt Disney, Marvel and Avengers characters. They also have others based on Game of Thrones, The Office, The Kardashians and Friends. You can check them out at our shop. Our deviant, but very creative people, with some great Star Wars Cards Against humanity ideas, have made a version of Cards Against Humanity that will be to everyone's taste (no matter how warped it is!).
You only can purchase the highest quality official game cards at Pick.Cards, not on eBay, Amazon, Target, Walmart or other online stores. There are full of shoddy cards.
Why You Should Buy This Original Star Wars Card Game?
Cards Against Starwars is a limited edition card game with the Star Wars movie theme. Remember…the Force (and Cards Against Star Wars) will be with you, always. This is the perfect adult card game for any party night. What better way to add to your evening with your friends then complementing the beer, pizzas and Star Wars DVDs than with this great box set. There's guaranteed laughs to be had all night as the endless amount of combinations create evermore hilarious answers. This will be a game that you come back to again and again as the fun is irresistible.
So what are you waiting for? Go and buy your box set now.