What is Cards Against Muggles?
Cards Against Muggles is an expansion pack for Cards Against Humanity. Three Potterheads (ladies named Heather, Michelle and Melissa) made this Cards Against Harry Potter edition. They put their favorite elements in their favorite card game. This official Harry Potter Cards Against Muggles set contains 1400 cards high quality printed. White cards is answer, black cards is question. You and your frends can enjoy it more than 60 minutes. In this game, you will find your familiar charaters in Harry Potter, but they will appear in another way that different with your memory. If you are a Harry Potter fan, you will definitely get a lot of fun from playing Cards Against Muggles.
How to Play Cards Against Muggles?
First, it's only for adults. There are a lot of dirty jokes and dark humor. Trust me, you don't want to play it on family get-together. 😛
The rules of playing Cards Against Muggles are similar to playing Cards Against Humanity. There are 450 black "Question" cards and 990 "Answer" cards. You can play it by following these steps:
Step 1, To set up a game, choose one player to be the Card Czar or judge for that round. Then deal 10 white cards to each of the other players.
Step 2, The Card Czar flips a black card over and read it out loud.
Step 3, Wait for every player to choose one white card from their hand to answer the question or fill-in-the-blank. The point is picking the funniest answer to the black question card or the answer the Card Czar may like most. Players pass their white card facedown to the Card Czar.
Step 4, Once everyone has submitted a card, the Card Czar shuffle them and then read them out loud to the group one by one. When they're finished, the Card Czar chooses their favorite answer. Whoever submitted the winning white card is awarded the black card for that round and keeps it in front of them to keep track of how many black cards they've won.
Step 5, After each round, the player to the right of the last Card Czar becomes the new Card Czar and flips a new black card over. The game continues until you run out of black cards or decide to call it quits. The player who has the most black cards at the end wins the game.
This game is a casual, non-competitive card game. We usually play until one player getting 5 points or more. Anyway, you can always play it until you are paralysed with laughing. 😀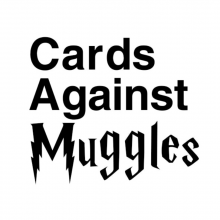 Cards Against Muggles Card Examples
Black Card Examples:
How do you sleep? Naked, rolling in ___
What is a hunter's best friend?
Long story short, I ended up with ___ in my ass.
It's the Eye of the Tiger, it's the ___
My true form is approximately the size of ___
Filch has finally banned ___ from the halls of Hogwarts.
White Card Examples:
Doctor Sexy MD.
My sex life.
Professor McGonagall feeding you biscuits.
Organizing a ring of shapeshifters to have orgies with yourself.
Snorting Floo Powder to go on a mental journey.
Sam's lost shoe.
Waking up half-naked in Purgatory.
Using magic to enslave your classmates.
Real dragon dildos.
Is there a Hidden Card in Cards Against Muggles?
No, there isn't any hidden card in this edition. Yeah, we know, players find hidden cards in Cards Against Humanity. But not in Muggle cards, not in the lid or the bottom of the box.