What is Cards Against Kardashians?
When two of the most famous Millennial cultural icons collide the result is a very funny adult party game. Cards Against The Kardashians game brings together our all time favourite reality TV show, 'Keeping Up With The Kardashians', with our favorite bad taste party game, Cards Against Humanity. As you can call it "Kim Kardashian Cards Against Humanity".
If ever there was a subject that was more rude than the original adult board game, this is it. The irreverent bad taste dysfunctional family has found a perfect home within the world of horrible humor and gutter level taste of Cards Against the Kardashians game.
In this Kardashian card game, you will find all your favourite (and least favourite) family members. Kim & Kanye, Khloe & Kourtney, "Lord" Scott Disick, MJ, Kris Jenner and Bruce Jenner (as well as Caitlyn Jenner). This great adult party game will allow you to put together 'some' of the most hilarious combination cards for all of your favourite reality TV stars.

How to Play Cards Against The Kardashians game?
We are sure you guys know how to play this game. each player takes it in turn to read out one of the question cards while the rest choose one o the answer cards. The most appropriate (or usually inappropriate) answer wins the round. You only need four people to kick the game off but many more can join in too.
Take a look at some of these examples here:
'When Kanye is President he will create a policy called ___?'
'Everything the Kardashians touch turns to gold except for ___?'
But how you answer these questions will depend on how rude, lewd or crude you and your friends really are? Remember, this is a Kardashian themed game so levels of good taste are set very, very low. What better way to improve your party night, after watching episodes of KUWTK, enjoying your beer and pizza, than by breaking out this great new adult board game, Cards Against The Kardashians.
This game is definitely not for the faint of heart or the young. The fact that the reality TV show is even ruder than the original Cards Against Humanity, this is only playable for those 17 and above. This box arrives with an age restriction printed on it for a reason. More details about playing rules, check this page.
Cards Against Kardashians Card Examples
There are 876 cards in total (276 black cards and 600 white cards) that are packaged in a cute baby pink box. Here are some more examples to show you how funny and how adult oriented, Cards Against The Kardashians game is.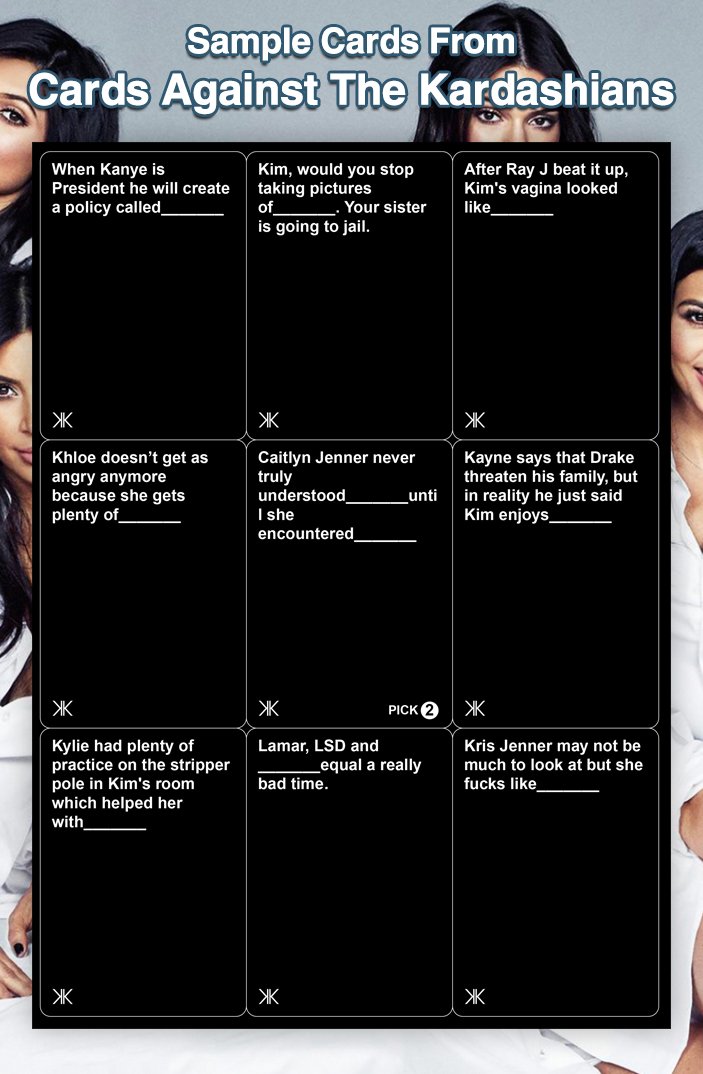 Black Card Examples:
Kim was savage on Twitter when fans talked about North's eyebrows. Afterward, she said ______ was the main priority
With a one time payment of $25 you can save a Kardashian from ____________
Rumor has it that Kim once killed a man with _______
Kylie Cosmetics was found to be using _________ in its products
Kanye's plan for world domination' begins with _________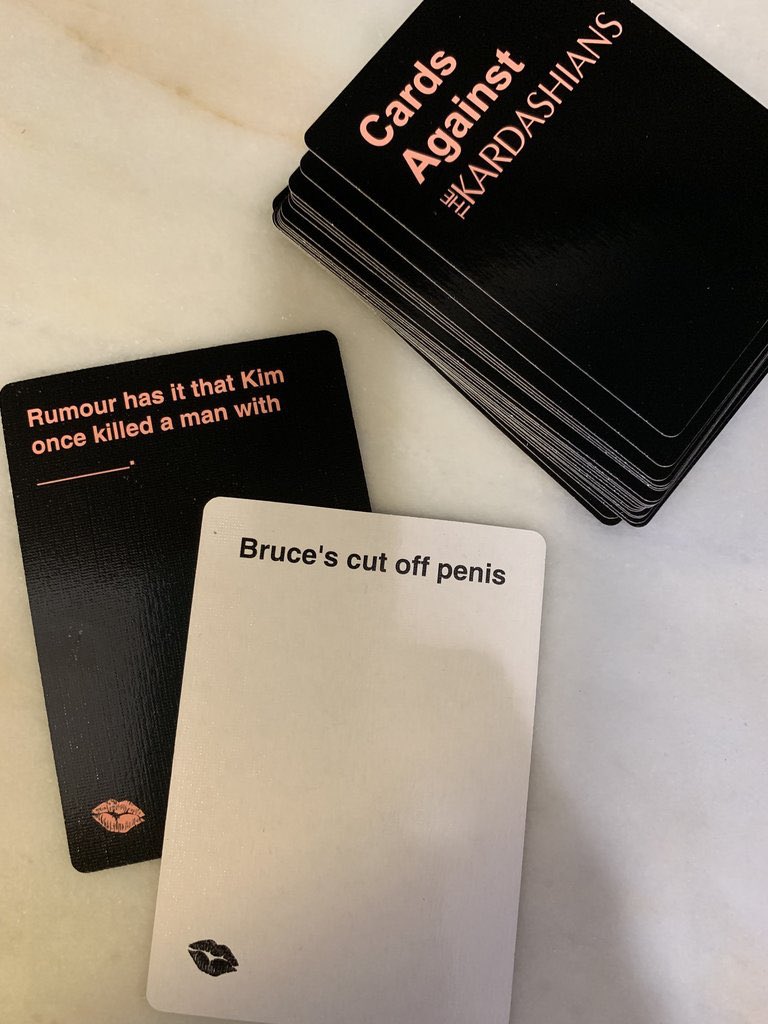 White Card Examples:
Pictures of Kris Jenner's asshole
A bigger, thicker, blacker dick
Bruce's cut-off penis
Bruce's new vagina
Squirting cum in Kim's eye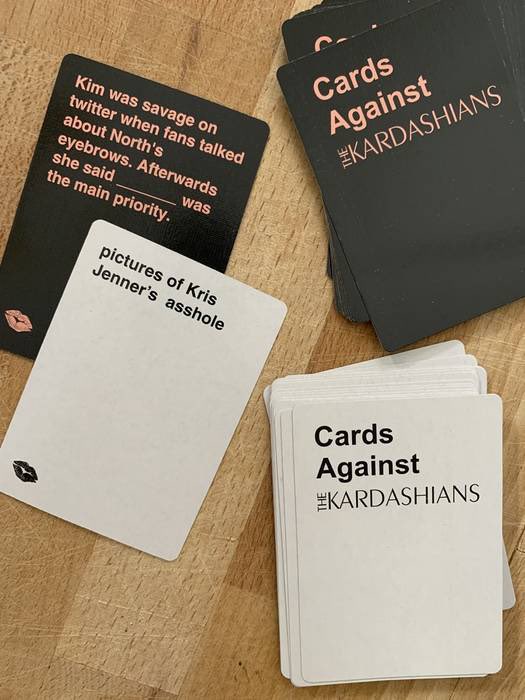 You have been warned, we told you how rude (and utterly hilarious!) Cards Against Kardashians is!
The Kardashian card game will really liven up your night with your friends (so long as they are broad minded enough?!) and give you hours of laugh out loud moments.
What are you waiting for? Stopping watching Kim's sex tape and order your box set now.